ABOUT SSW CAREGIVER, HOW TO APPLY, WHAT REQUIREMENTS, WHEN PROMETRIC TEST, ETC.
-> SEE THIS EXPLANATION


LINK TO STUDY MATERIALS FOR SPECIFIED SKILLS WORKER VISA OF CARE WORKERS (CAREGIVERS)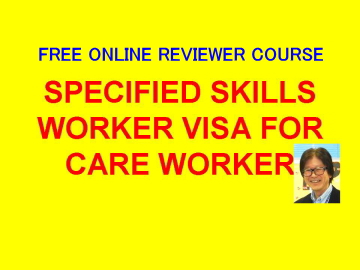 If you study here, you will definitely pass the test! -> <<How to enroll>>

NOTE: Only our admitted course students can open these links of study materials.

For new comers! -->> Click -->> How to study this our reviewers
★SHORT CUT TO PROMETRIC PREP STUDY
A. NURSING CARE JAPANESE LANGUAGE

B. NURSING CARE SKILLS

C. JFT FOR BASIC JAPANESE

D. OTHERS


***->>SPECIAL FOR PROMETRIC PASSERS***

---
A. NURSING CARE JAPANESE LANGUAGE


OTHERS:

-> Nursing Care Japanese Words to be remembered!

-> Vocabulary List for Nursing Care Japanese Language


B. NURSING CARE SKILLS EVALUATION TEST

---
QUESTION ANSWERING TECHNIQUE

Magic Tips for Answering Test




YES or NO QUIZ (practical questions)


NO.1 - NO.22 : Physical care
NO.23 - NO.26 : Fundamentals of care
NO.27 - NO.38 : Mechanisms of the mind and the body
REVIEW YES/NO MOCK QUIZ WITH SCORING
(only for our course students)
Access each page below and open it with Safari/Chrome browser. Try to memorize key points together with our textbooks. The details such as user name, password, how to are ->

(1) user name, password

(2) how to use.
---

C. JFT FOR BASIC JAPANESE
(only for reference)
1) Sample test

2) Free online study page by Japan Foundation

---

D. OTHERS

Application form to join this study group

Video of "How is a nursing care facilities in Japan"



---
We are:
Foreigner Caregivers Support Center Inst.

International Nursing Care Staff Association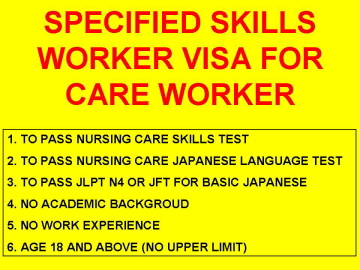 HOW TO ENROLL:
CLICK -> JUST READ THIS FB POST ANNOUNCEMENT OF OURS



---
試験に合格した人のための特別レッスン
SPECIAL LESSONS FOR PROMETRIC TEST PASSERS


NO.
TYPE
Click here
CONTENTS
1
ビデオ リスト

介護の日本語導入編前半 のビデオのリスト

1-1
ビデオ レッスン

介護の日本語導入編前半 レッスン1

1-1
問題

介護の日本語導入編前半 レッスン1
その他

介護福祉士の勉強の仕方